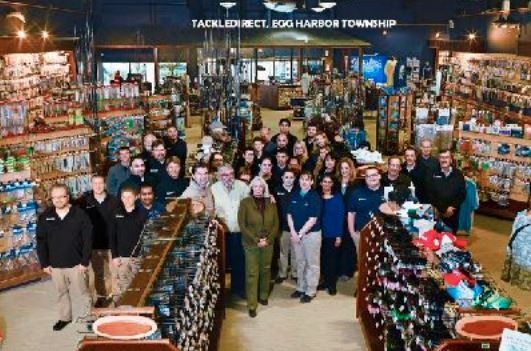 TackleDirect is part of the eCommerce Outdoors network of specialty stores and is headquartered in Egg Harbor Township, NJ. eCommerce Outdoors is a direct marketing company and multi-channel specialty retailer employing over 60 NJ residents, and operates two physical retail store locations in Southern New Jersey and seven online stores that sell outdoor products to consumers throughout the USA and the globe. Their first eCommerce store, TackleDirect.com, World's Premier Fishing Outfitter, began in 1997 and is a growing leader in the online sporting goods category. TackleDirect stocks and ships over 50,000 outdoor products from 500 premium brands to over 200 countries worldwide from their Egg Harbor Township, New Jersey location.
"Every day, anglers from around the world seek expert product advice from TackleDirect to help them be more productive on the water. Our team of fishing veterans takes our tagline of being the 'World's Premier Fishing Outfitter' very seriously. We work hard to improve our business from a customer's view with each interaction. I could not be more proud to work with the people I do." – Patrick Gill, Founder & CEO, TackleDirect
Why grow our business in Atlantic County? TackleDirect employs over 60 full-time locals. As a family owned and operated business of now 4 generations, there are considerable ties to the area. The Principals believe in stewardship through the sharing of their time, talents, and treasures. They are vested in the lives of the people who work and live here.
Contact: Lisa Pashley | 609-788-3920